Large hoop and ring earrings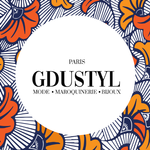 This pair of Fulani earrings is the basic, essential element of a Fulani woman's jewelry box. These Fulani earrings bear witness to the finesse and grace of Peulh women. Fulani jewelry is made of bronze. Sometimes Fulani jewelry is immersed in a bath of solid silver. These earrings are handmade in Mali by traditional jewelers. These Fulani earrings are shaped like a carambola. Fulani earrings combine beauty, elegance and originality. These Fulani earrings are available in several sizes (XS, S, L, M, 2XL and 3XL), in two colors (in bronze and in silver) and in several models. We also offer bracelets and necklaces for a total look. This pair of Fulani earrings is size M. True tradition with a touch of modernity and style! My suggestion: Fulani earrings can be worn with all your outfits. Fulani earrings bring an original and luminous touch thanks to their carom shape and the original material with which they are made, bronze. All Fulani jewelry is nickel free. Shape: rounded, creole Weight: 4 g / loop Material: Bronze Diameter: 4 cm -4.5 Cm Precaution: Avoid putting perfume on it Care instructions: Maintenance is easy; immerse the Fulani in lukewarm water mixed with lemon or white vinegar and a pinch of baking soda. Leave the jewelry in the mixture for a few minutes. And rinse with plenty of water and let dry on a white paper or cloth. Follow us on the social networks Facebook and Instagram
---
Replies in 19 hours in average
Payment in 3 times
Money back garanteed
Secured transactions
Tailored & custom made
---
Delivery Delay
France (DOM) from 6 to 12 days.
Canada from 10 to 16 days.
France from 10 to 16 days.
United States from 10 to 16 days.
Europe from 10 to 16 days.
International from 10 to 16 days.
Refunds and Exchanges
Money back guaranteed 15 days after reception.
Weared and personalized items will not be exchanged or refunded.
Return shipping fees are at your charge and not refunded.
Refunds are made on your Afrikrea virtual wallet. You can use the credit to buy another product or transfer the amount to your bank account.
Condition
New item.
Customizable and made to order.
Payment
Credit card, Visa, Mastercard, Electron, Maestro, PayPal, Afrikrea wallet.
3 x payment starting at $73.
Translated automatically
View original
This pair of Fulani earrings is the basic, essential element of a Fulani woman's jewelry box. These Fulani earrings bear witness to the finesse and grace of Peulh women. Fulani jewelry is made of bronze. Sometimes Fulani jewelry is immersed in a bath of solid silver. These earrings are handmade in Mali by traditional jewelers. These Fulani earrings are shaped like a carambola. Fulani earrings combine beauty, elegance and originality. These Fulani earrings are available in several sizes (XS, S, L, M, 2XL and 3XL), in two colors (in bronze and in silver) and in several models. We also offer bracelets and necklaces for a total look. This pair of Fulani earrings is size M. True tradition with a touch of modernity and style! My suggestion: Fulani earrings can be worn with all your outfits. Fulani earrings bring an original and luminous touch thanks to their carom shape and the original material with which they are made, bronze. All Fulani jewelry is nickel free. Shape: rounded, creole Weight: 4 g / loop Material: Bronze Diameter: 4 cm -4.5 Cm Precaution: Avoid putting perfume on it Care instructions: Maintenance is easy; immerse the Fulani in lukewarm water mixed with lemon or white vinegar and a pinch of baking soda. Leave the jewelry in the mixture for a few minutes. And rinse with plenty of water and let dry on a white paper or cloth. Follow us on the social networks Facebook and Instagram
Color: Gold
Fabric: None
Gender: For Her
Earings: Pierced earrings
Material: Bronze
Jewel Style: Non-fabric pieces, Statement pieces

Cette paire de Boucles d'oreilles Fulani est l'élément de base, indispensable de la boîte à bijoux de la femme peule. Ces boucles d'oreilles Fulani sont le témoin de la finesse et de la grâce des femmes Peulhes. Les bijoux Fulani sont en bronze. Parfois, les bijoux Fulani sont plongés dans un bain d'argent massif. Ces boucles d'oreilles sont fait)-main au Mali par des bijoutiers traditionnels. Ces boucles d'oreilles Fulani ont la forme d'un carambole. Les boucles d'oreilles peulhes allient beauté, élégance et originalité.
Ces boucles d'oreilles Fulani existent en plusieurs tailles ( XS, S, L, M, 2XL et 3XL ), dans deux couleurs ( en bronze et en argenté ) et dans plusieurs modèles. Nous proposons aussi les bracelets et les colliers pour un total look. Cette paire de boucles d'oreilles Fulani est la taille M.
La vraie tradition avec une touche de modernité et de style !
Ma suggestion: Les boucles d'oreilles Fulani se portent avec toutes vos tenues. Les boucles d'oreilles Fulani apportent une touche originale et lumineuse grâce leur forme en carambole et la matière originale avec laquelle elles sont réalisées, le bronze. Tous les bijoux Fulani sont sans nickel.
Forme: arrondie, créole
Poids: 4 g/boucle
Matériel: Bronze
Diamètre: 4 cm -4,5 Cm
Précaution: Eviter de mettre du parfum dessus
Conseils d'entretien: L'entretien est facile; plonger les Fulani dans de l'eau tiède mélangée à du citron ou du vinaigre blanc et une pincée de bicarbonate de soude. Laisser les bijoux dans le mélange pendant quelques minutes. Et rincer à grande eau et laisser sécher sur un papier ou du linge blanc.
Suivez-nous sur les réseaux sociaux Facebook et Instagram
Other gdustylart's products
Similar products
$21.13

$30.79
Free shipping
$21.74

$24.15
Free shipping
$18.54

$19.92
Free shipping
$27.66

$30.07
Free shipping
$17.99

$19.32
Free shipping
$17.99

$19.32
Free shipping
$30.16

$37.42
Free shipping
Similar searches
# Bouclesdoreilles Fashion Woman # # Bronze # Gdustyl Afrikrea # # Bouclesdoreillesfulani Bouclesdoreillespeul Bouclesdoreillespeule # # Bouclesdoreillespeulhes Bouclesdoreillesmali # # Bouclesdoreillesartisanales Bouclesdoreillesafricaines # # Modeafricaine Modeethnique # # Bouclesdoreillesethniques Modesfemmes # # Bouclesdoreillesenbronze Jewelry Earrings Large hoop and ring earrings Color: Gold Fabric: None Gender: For Her Earings: Pierced Earrings Material: Bronze Jewel Style: Non Fabric Pieces Jewel Style: Statement Pieces